In a Nutshell
Cupid.com is a popular online dating site that serves Australian singles as well as members from all around the world. Though the site has an active international member base, its emphasis is on helping singles finding local dates, and they currently boast the largest Australian user base of singles. Cupid appeals to people looking for all types of relationships.
pros
Lots of plan options
Great at-a-glance profiles
Varied forms of communication
cons
Frequent requests to upgrade
Limited search functionality
Its members can easily find and get to know each other through its wide range of features, and the emphasis is on chemistry, with no lengthy sign ups necessary. Cupid members are in control of their own searches with 7 kinds of search.

Cupid Visit Site
Cupid.com Features
Cupid.com is full of excellent features to help its members find dates. Members can share as much or as little about themselves as desired. The site lets members upload photos and videos.
Cupid.com are very proud of their Special 7 matchmaking feature. Every day, you will receive 7 special matches based on your profile criteria. This is a quick and fun way of seeing what kinds of members are on the website, and making sure your profile is giving off the right impression too.
Every Cupid.com review praises the site for its wide variety of communication options. The site uses an internal email system. It also offers its own instant messaging service, as well as brilliant chatrooms including an Australia only room for Aussie flirting.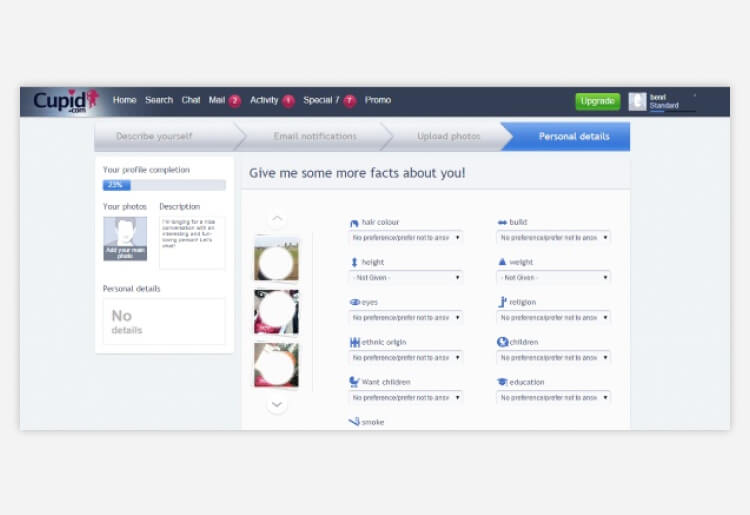 With time-saving messaging tools, there's no need to email every individual match. Members can also send Winks and the innovative 'Cupid's arrows' to show interest without having to compose a message.
Cupid.com Sign up
Signing up to Cupid.com takes a matter of moments. Simply enter some basic information about yourself, choose a valid email address and you're good to go. Recently, to make things even simpler, the website have included a Facebook sign up, allowing you one click entry to full functionality to the site. Of course, Cupid.com will never post to Facebook so your privacy is maintained.
Once in, you can complete a four step sign up. Enter some basic info about yourself, choose what notifications you would like to receive, upload photos from your PC or Facebook or even via webcam, and then include some more specific info about your interests and lifestyle. That's it! You're signed up.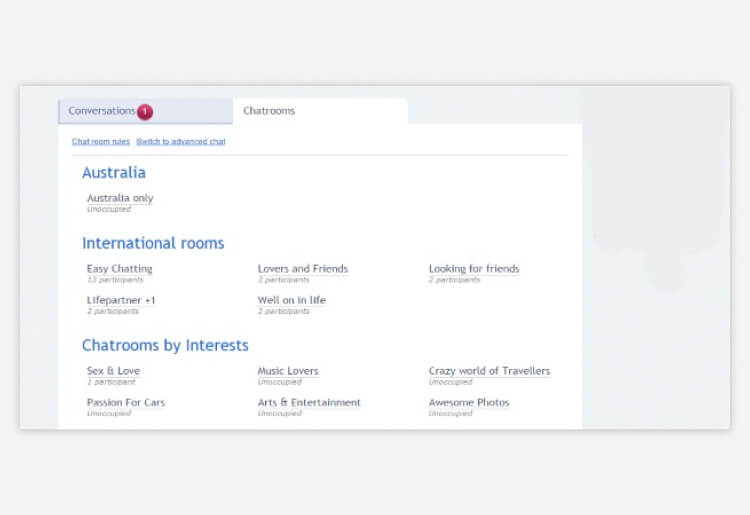 Cupid.com Safety:
Cupid.com is concerned about its members' privacy. The site employs a variety of methods to keep their private information safe, and encourages members to share only the information they're comfortable sharing. The site collects information that its members provides on the site's form fields, as well as email, location, and information from cookies. Cupid uses this information to improve each member's individual site experience and to help site administrators improve the overall functionality of the site. Members should know that the site automatically shares information with third-party advertisers for marketing purposes; members must opt out of this program if they do not wish to be contacted.
On the dating portion of the website, members have the option of blocking unwanted correspondence from other members or reporting inappropriate behaviour. The site offers safe dating tips. Finally, the site's billing area uses VeriSign Authentication Services to ensure secure transactions.
Cupid.com Prices:
Pricing is transparent, and doesn't differ that much for a longer subscription, but your cheapest option is a six month term. You can pay by credit card, PayPal or a number of other payment options.
Cupid.com Ease of Use:
Cupid.com is user-friendly and all its features are easily accessible from the home page. Its straightforward signup process takes only a few minutes. New members have to provide some basic information upon registration, and they can return to the page later to add more profile information and upload a photo. The site will remind users to add photos to their profiles. The site's default settings include pop-up notifications, but these can be disabled. The site automatically detects a new member's location so that your matches are optimised.
Cupid.com The Search:
Cupid.com offers several search options: Basic, Advanced, Postcode and Member username. While the Basic search looks up general information such as sex, age, and location, the Advanced Search includes more specific criteria including Ethnicity and Appearance. Members can also choose to view only search results with photos and videos, or Currently Online. The Postcode and Member search tool allows members to search by location and username. Searches can be saved. Members can also view people who are active members by viewing the New Member, Online Now, Recently Online, and Active in Chat pages.
The site automatically detects the user's signup location and offers suggestions from the surrounding area. However, it's still possible to search for dates in a different state or even country.
Cupid.com Bottom Line:
Cupid.com is all about chemistry, and matches people based on search and profile rather than compatibility tests and lengthy sign ups. They are an easy to use online dating choice with a large Aussie user base.

Cupid Visit Site