In a Nutshell
EliteSingles treat their sophisticated, educated target audience to all of the best features a dating site could offer. Whether you're in Brisbane or Adelaide, you will find your best match amongst their 13 million members, using their scientific matching system, which goes further than most other dating sites in asking for specific, advanced criteria to create successful matches.
pros
Elite dating pool
Questionnaire is based on relevant and useful data
Helps narrow down to most relevant matches
cons
No freemium option
Little verification available
Your information, preferences and lifestyle are gathered in one unique questionnaire. The site targets educated and established singles in their thirties and has a strong following in Australia and around the world. Don't hesitate another minute wondering if this can work for you. Sign up now for your free profile and get your matches today.
"EliteSingles is a far superior dating site if you ask me." Richard & Yvone

EliteSingles Visit Site
Features:
EliteSingles has features such as private inbox messaging and an expert matching system. The site is very dynamic and enables users to share updates and recent photos, and even send winks and likes directly to your inbox, as well as pre-set and customized questions to find out more about one another. One of the site's best features is the magazine. EliteSingles offers their members a special dating magazine known as ELITE Magazine. It is available on their website and provides online daters with tips and methods to finding their match while dating online and relationships thereafter.
Sign Up:
You will enter your name, the sex you are seeking, and your email address to get started with EliteSingles. The next page begins the personality questionnaire provided by experienced psychologists who worked with EliteSingles. Using the Big 5 factor model of personality dimensions, they created this twenty-minute questionnaire to find matches that fit you perfectly.
It is advised that you take your time through the questionnaire. The more time you take carefully thinking on your responses, the more likely the website will render better matches. Besides, you always have the option of coming back to it later to finish it if you don't have time to complete it in one sitting.
Questions are really varied and include personality traits you believe you are and want in a partner, as well as statements to agree or disagree with on a sliding scale.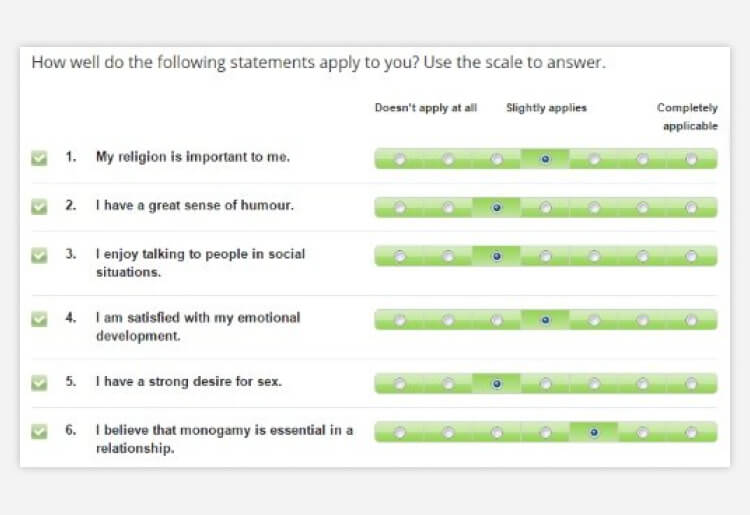 You will also find a few open ended boxes to disclose things which are important to you, but this section is not the same as your profile, which can be filled in later and will be shown to other users. Once completed, you will be able to view your results on the 5 dimensions directly from the website.
Safety:
EliteSingles dedicates an entire page to online dating safety. Their goal is to educate online daters about the possible risks of dating online. They caution members to use their best judgment regarding people whose information may be unrealistic. EliteSingles also guarantees their users that they will never sell their personal information to any third-party companies and allows premium members to verify their identity so that other members feel safer talking to them. All profiles and photos are moderated before being allowed on the website.
Prices:
It is completely free to create a profile and search other member's profiles on EliteSingles. However, users with a paid membership will gain more benefits and features such as access to read receipts and 20 extra matches per day. 3 months is the most expensive option and costs $89.95 per month. 6 months is cheaper still at $64.95 per month. Your most competitive option is opting for a 12 month subscription which is only $49.95 per month, saving 66% on full price, a great cost for a premium matchmaking website.
Ease of Use:
EliteSingles' site is simple to navigate and use. The site is clean and is not cluttered with multiple ads or rotating pictures of singles. It is very static and provides the user with everything they need to communicate effectively online.
When you select a member's profile to view, you'll get the full details on that person, including their religion, habits and if they have or want children. You'll also view short blurbs regarding how they spend their time, what hobbies they enjoy the most, and how they describe their personality.
The Search:
When you click on the search tab at the top of your user dashboard, you'll be directed to the search page. Unlike regular search tools, EliteSingles search function updates your matches. Search results are not returned to you in the traditional manner like most dating sites. Instead, these search results are included with your latest match updates. Choose options such as the desire to have children, income, habits and religion. For distance, you can choose how far or close your potential match should be.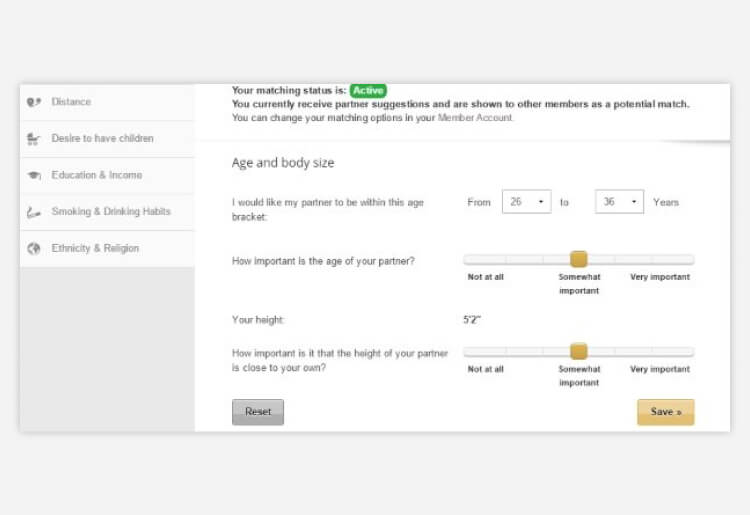 In addition to a traditional search feature, EliteSingles has an extensive matchmaking service that offers each member suggested matches based on their answers to the extensive questionnaire. Members are encouraged to constantly refine their searches so that the matchmaking service can adjust their parameters and find the best suited matches for each member.
Bottom Line:
The homepage proudly boasts that "every 8 minutes a single finds love" with EliteSingles. With expert matchmaking skills, powerful personality profiling and fun and easy messaging tools, we can't say we're surprised. A great choice for professionals looking for long term commitment and romance.

EliteSingles Visit Site