In a Nutshell
Of the many dating sites out there, BeNaughty Australia provides a fun, safe and sexy environment to search and find new people and new experiences. With thousands of members online, your search is focused more on finding new people in your area rather than on specific criteria. Use the site for a short term hookup or for something a little more serious.
pros
Great for fast and easy hookups
Local search option
Per day payment option
cons
Smaller dating pool
Won't find your wed-ready singles here
BeNaughty is so easy to use, with also a ton of features such as forums, and blogs. The real winning factor at BeNaughty.com is the quality and quantity of members, all there for some sexy, no strings attached flirting and fun.
BeNaughty Visit Site
BeNaughty Features:
BeNaughty allows you to explore different possibilities and is the number one place to meet members of the same sex, couples or opposite sex matches. BeNaughty Australia has a great collection of forums, blogs and chat rooms to take part in. Also games and a sexy photo contest all add sexy fun to casual dating. The chat rooms can have hundreds of participants meeting and hanging out.
There is also an incredible amount of ways to get in touch with members on BeNaughty. Send a message, have a chat, or just go for a playful wink, kiss, hug or even a naughty spank. You can also get in touch via text, video and audio. Setting up your profile and searching is free, and you can even send 5 messages free per day, though with a subscription you can message all members without limits. A subscription also allows free members to reply to your messages, a feature not found on other dating sites.
BeNaughty Sign Up
It takes literally moments to sign up with BeNaughty. Simply enter your gender and date of birth, and include your postcode and email address and you're good to go. Be honest about these last two pieces of info, as you will need your email address to verify your account, and your postcode will be used to find matches by location.
There are two ways to verify your account, either by copying the verification code found in your email, or simply clicking on the internal link. You are now fully signed up to the basic membership. When you're ready to upgrade, you can find the subscribe link on every page of the site.
You will now be prompted to fill in your profile details. Take some time to think about your status box, as this is your introduction to other members of BeNaughty.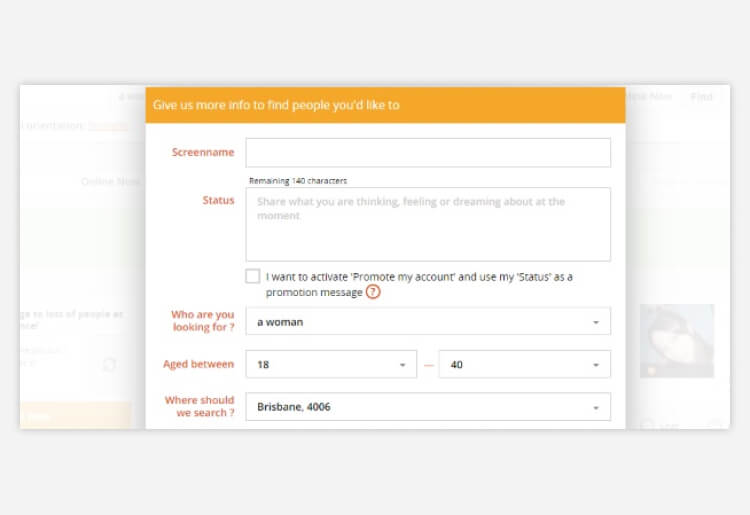 Be sure to upload a photo so that you appear in the search results.
BeNaughty Safety:
Safety online is always a concern, especially when looking for adult fun. On Be Naughty your safety and security is a high priority as seen from its policies and security features. The site also has two search modes, to keep your experience as pleasant as possible. With the Naughty mode off you can avoid seeing nudity and explicit content.
The site provides video and audio contact between members. This works also as a safety feature, so you can ensure that you checkout a member as best you can, before actually agreeing to meet in person. The site itself has strong security features, with information encrypted and of course BeNaughty will never share your personal information. Any member who acts in rude or illegal ways should be reported and will then be removed from the site. Casual dating can be an enjoyable experience, just as long as you keep safe.
BeNaughty Prices:
BeNaughty offers a surprising amount of functionality for its free basic subscription. You can sign up, build a profile, search and even send 5 messages per day. Amazing! When you are ready to use video chat, unlock all messaging tools, and receive 9 times as many profile views, sign up for full access. A 3 day trial costs $1.66 per day. 1 month subscription is the most expensive, and costs a one off fee of $32.99. 3 months reduces the price to $21.99 per month, and the most competitive choice is $16.50 per month for 6 months.
BeNaughty Ease of Use:
BeNaughty is one of the easiest dating sites out there to navigate. Even with so many great features, within minutes I was signed up and browsing members living near to me. I did not have to complete all my details immediately either, which meant that I could get straight to searching for potential matches. The BeNaughty homepage is so user friendly that you can see new members and matches immediately without a single click. From the homepage you easily access email, your profile, make match searches, drop into all the forums, blogs and visit all the added features. For me this site gets ten out of ten for ease of use.
BeNaughty The Search:
This site is so user friendly, it's crazy. From the benaughty.com homepage you can see new members and also who is online for a chat right now. If you want to search for members in your area, then go for either the Be Naughty quick or more advanced search options. The BeNaughty advanced search criteria include sexual orientation and interests, physical appearance, location and age. You can also search using your postcode, as well as who is online or chatting right now and also using your friends list.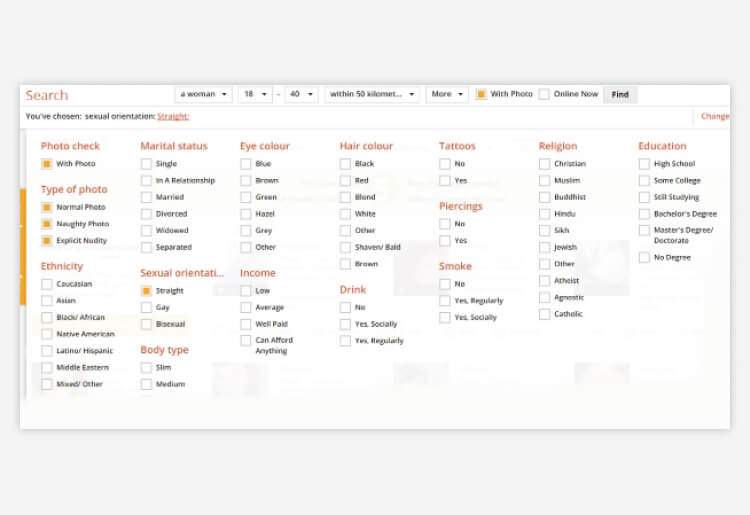 The site also gives suggestions of similar matches for you to look at as well. The forums are definitely a great place to meet members. Start a conversation and discover if you are a match in this sexy way to search for love or simply new friends and fun.
BeNaughty Bottom Line:
BeNaughty is a fun and flirty option for Australian singles looking for some online romance and entertainment. Easy to use, with a quick and simple sign up process, we love the extra features such as the 'Naughty' browsing mode and the sexy photo contests.
BeNaughty Visit Site