In a Nutshell
Bored and lonely this evening? Spice it up with a saucy date from NaughtyDate. Home to over a million single men and women, NaughtyDate is the perfect website for casual dating, one-time meet ups, and cultivating new friendships. With many features for communication and plenty of singles, you won't ever be bored and lonely again.
pros
Women chat for free
Video profiles
Fun for casual dating and sex
cons
Not great for serious relationships
Lots of pop-ups
Enjoy the calming atmosphere of NaughtyDate or get a little wild with the different website search modes to view sensual photos from other members. Join the different chatrooms with various topics to get involved with hot conversations. You will find everything you need for your next casual encounter or offline romance.

NaughtyDate Visit Site
Features:
The dating features at NaughtyDate are split into three categories. Activity, where you will see everything happening on the site, including winks, profile views, flirts and messages, Matchfeed, where you can have other members of the site suggested to you, and Chatrooms, where you can communicate with other members freely. Basically, NaughtyDate works similar to a social media site, except you can flirt and chat with single members with the purpose to date.
Activity feeds can include photo updates, status updates, and answers to site questions. You can have SMS chats, send virtual gifts and view the 'like gallery'. We love the NaughtyDate forums where you can chat to other members about specified topics and interest points.
Sign Up:
Joining NaughtyDate is quick and easy. You will need to provide your date of birth, zip code, and gender. A verification email is sent to the email address that you provide. Once you've confirmed receipt of this email, you can move onto your profile.
Building your profile can be as quick or as long as you want. Most people opt to skip the profile and move onto the available singles. But, you want to make contact with many of the single men and women on NaughtyDate, it's better to complete your profile. You can go directly to the profile page and add more info, to help other members of the website search for you.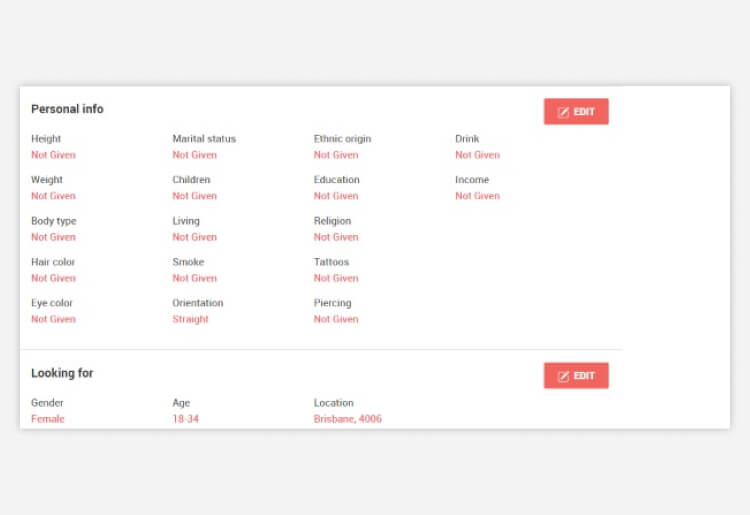 Upload photos, greeting videos, and fill out any information about yourself. Make your answers direct and clear. Being vague in your profile can cause members to be suspicious of your intent. Get a feel for the site and when you've had your fill, move onto the membership.
Safety:
At the bottom of your dashboard is a 'Safe Dating' link. This link will pop up a window with 17 Great Date Tips to improve your experience with NaughtyDate. Among trusting yourself and being cautious, they encourage members to keep chatting on their mobile device. Regular communication will help you to become comfortable with the person you find interesting.
A great tip is to make full use of all the communication tools, including audio and video before arranging a meet. Use the contact us form to report anything suspicious, and always stop communication immediately if you feel unsafe at any time.
Prices:
Women chat for free on NaughtyDate, and can pay less than 12 dollars a month fee to upgrade themselves in the search results and browse incognito. To get the most from the site, you can upgrade to a Premium Dater package for $24.99 per month, or a Chataholic Pack for $16.99 per month.
Ease of Use:
You won't have any problem navigating the NaughtyDate site. Communication options, winks, news feeds, and chatrooms are located on the top left of your dashboard. To the right is the different modes you can use to view profiles, upgrade options, and your profile options.
NaughtyDate's site layout is conveniently large, making it simple to view text and photos easily without having to zoom. You can also adjust profile views by photo quality, online now, and recently joined. The chat rooms are fun and intuitive to use.
The Search:
The second menu, just below your top menu, is the simple search. It offers no more than five options including gender, age, location, more settings, and with photo. You can see from the few options that your search results will be broad with little filtering.
But, you can improve your search results by clicking on the 'More Settings' option. This link will populate an inset window upon your dashboard. Your search criteria is expanded into more specific options. For instance, you can search for individuals on their marital status, body type, income, religion, and sexual orientation. Interesting options include tattoos and piercings.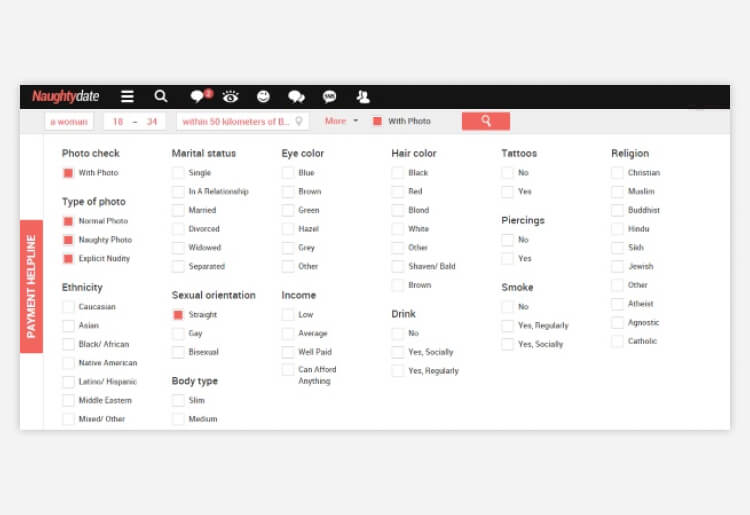 It's tempting to choose eight or ten search parameters in hopes of finding the person who fits that exact criteria. But, narrowing down your search too much can hurt your chances of finding the right match, so be sure to search broadly where you can. You might be surprised by who you hit it off with!
Bottom Line:
NaughtyDate is a great dating site for casual, young daters interested in finding partners for clubbing and a good time. The many features on NaughtyDate allow members to interact fully and with the use of mobile dating, the flirting and chatting never has to end.

NaughtyDate Visit Site