In a Nutshell
Flirt is a fun and casual dating website for Aussie singles looking to flirt and meet new people online. With women joining and chatting for free, you can imagine how broad their appeal is all over Australia. Once you're signed up, which can be done with one click social log in, you can enjoy chatrooms, fun dating games, and communicate with other members via chat, audio and video.
pros
Media, video, and chat messaging and recording
Fun gift options
Tons of sharing options
cons
Can't get a serious date
Not great at filtering out baddies
Easy to sign up, use and communicate, Flirt is a great choice for fun and romance online.

Flirt.com Visit Site
Flirt Features
One of the most unique features is the naughty mode. Turn it off if you're not interested in casual dating. Leave it on and you will see a lot more responses to your profile.
Flirt has everything from flirts and messages, to chat rooms and message boards. The communication features at Flirt are one of the best things about the website. As well as inbox messaging, there are loads of fun chatrooms, and instant messaging, audio and video chat throughout. You can even use SMS chat. You can really get to know other members of the site before deciding if it's worth moving offline.
The 'like' gallery is a fun way to browse through members, simply answering "hot or not?" and moving on.
Flirt offers a fully functional mobile app, for dating on the go.
Flirt Sign Up
The sign up for Flirt is quite simple. There are only a few basic questions to answer before your profile is up and available for others to see. You can even log in with Facebook (no details will be posted to your profile) for the easiest way to sign up, no username or password necessary. In a matter of minutes, you can be meeting new people and making new friends.
If you choose to skip the Facebook sign in, simply enter a valid email, choose a password, and include your location for the best chance of finding a match, and you're good to go.
The sign up is free of charge for everyone. After you have explored the site and checked out the features, you can decide if you want to sign up for a paid membership.
Building a profile on Flirt is also free. Simply add some information you want other users to see. The profile is minimal, and acts as a first impression to other members of the website. You can also send a 'flirtcast' which is a message all members will see.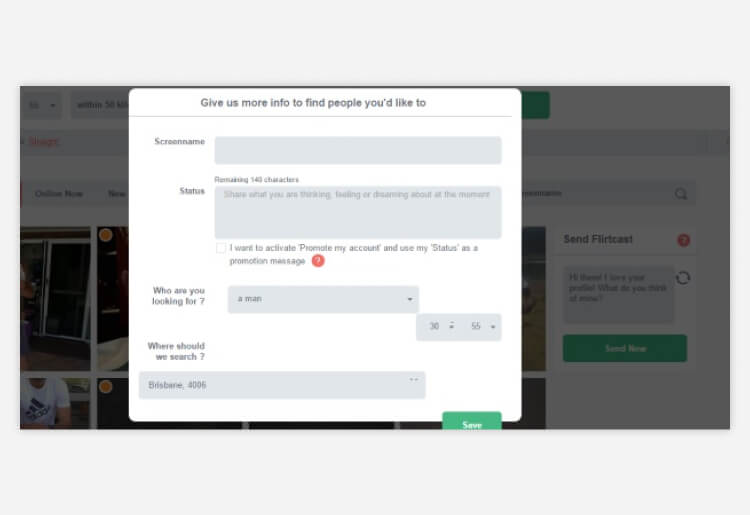 Flirt Safety
Flirt employs an email verification, which helps to identify people on the website, and discourage spam accounts. Simply find the welcome email from Flirt in your inbox, and click on the activation link which will take you directly to the home page.
Flirt has policies in place to protect your information online. One of these is a dedicated safety tips page, which offers advice on keeping safe both on and offline. One method they recommend is the "see me, hear me, meet me" policy.
Ask for photos, chat on audio and video before moving to a real life meet. This is a step by step way to ensure you are protecting yourself when getting to know new people.
Flirt Prices
For women, Flirt operates as a completely free dating site in terms of communication. Sign up, browse singles, chat by messages and audio and video completely free of charge. If you would like a highlighted profile, and complete mobile access, as well as the ability to browse incognito, you can pay for the search upgrade for $11.99 per month.
For men, the sign up and browse features are also free, but to unlock communication, you will need to sign up for a subscription. The most competitive pricing structure is 6 months of membership, which costs $12.59 per month. Commit to 3 months and this raises to $16.79 per month, or one month full membership is the most expensive, for $27.99. Not sure Flirt is for you? Try the 3 day trial period for only $1.39 per day.
Flirt Ease of Use
With the handy menu bar across the bottom of the screen and the user-friendly alert button, this site is easy for anyone to use. The journey from one screen to another is a breeze with the point and click navigation buttons.
Whether you are a pro or a rookie with computers, you should have no problems using this site. People who have never used online dating sites can also learn their way around Flirt with ease. If you have any trouble at all with upgrading or problems on the site, there is live chat available from the upgrade page. Flirt encourage you to email them directly to report any malicious behaviour.
Flirt The Search
As well as the expected search tools by age and location, Flirt allows you to do so much more. Search by new members or those near you, search by who is currently online, or who has photos. You can even search in 'naughty' mode for those whose photos contain more explicit content, or switch it off if you would rather not see those profiles too.
You can also search by profile criteria, including physical appearance and lifestyle choices.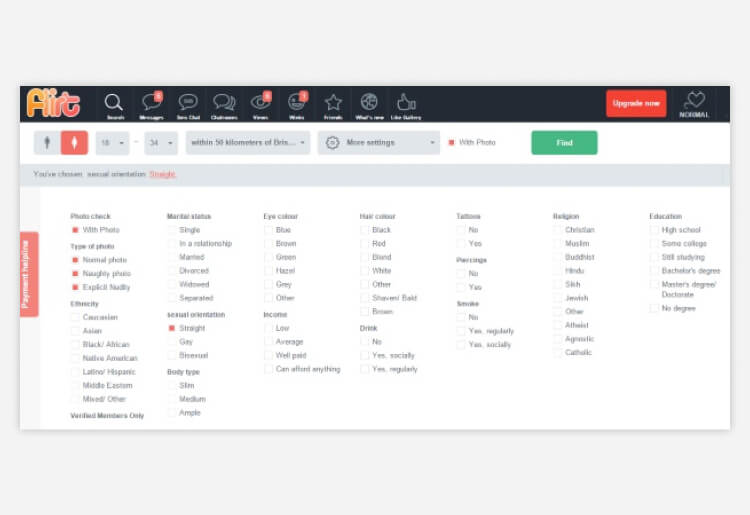 Flirt Bottom Line:
Flirt is a truly fun online dating experience. With every kind of communication tool you could imagine, and thousands of users all over Australia, they are a great choice for having fun and meeting new people online. With women communicating for free, and varied and lively chatrooms to choose from, they are a great choice for Aussie dating.

Flirt.com Visit Site